The Australian Agribusiness Advisers' Guide
– SECOND EDITION –
NOW AVAILABLE!
The Agri-Guide provides a comprehensive review of the tax, structuring, transactional and succession planning issues for agricultural-based businesses and other primary producers, as well as businesses closely related to primary industries… a significant sector of the Australian economy.
The second edition of the Agri-Guide includes brand-new commentary on a number of topical issues for advisers acting in the agribusiness sector, including features:
superannuation earnings tax and impact on farm landholdings;
section 100A trust strategies for minimising exposure in private agribusiness groups;
the latest insights into carbon farming and tax relief for primary producers;
commentary and tips on the new NSW duty exemption for land transfers to trusts; and
practical guidance on what to do when the energy company comes knocking.
The second edition also provides additional strategies for managing transactions, restructuring and succession planning.
The second edition costs $250.00 per copy (whether an ebook or hard copy) inclusive of GST and freight.
To purchase your copy, click the link of your preferred format at the bottom of this page.
The Australian Agribusiness Advisers' Guide ("Agri-Guide") is the definitive text for accountants and other professional advisers in acting for clients in the agribusiness sector.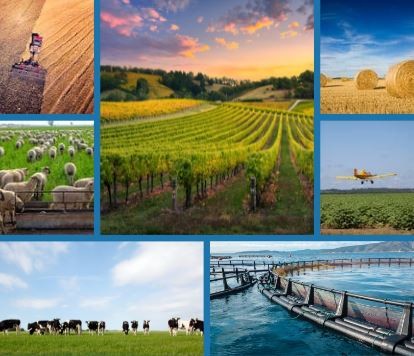 Co-authored by Peter Slegers, Joshua Pascale and Daniel Marateo of Cowell Clarke's Agribusiness and Tax & Revenue groups, the Agri-Guide traverses, amongst other things, the challenging issues associated with optimal business structuring for the agribusiness sector, agribusiness acquisitions and sales, business succession, navigating the tax maze (including optimising the use of tax concessions) as well as addressing the ever-changing issues relating to inter-generational succession planning.
The Agri-Guide also deals with industry specific issues including, for instance, those relating to wine and viticulture, the fishing industry and water rights.
The Agri-Guide has arisen from the authors' passion and experience in dealing with specialist tax, structuring, transactional and succession planning issues impacting on the various industries comprising the agribusiness sector.
The Agri-Guide will be of particular use to accountants, financial advisers, agribusiness consultants, commercial lawyers and other professional advisers to the sector.  It also has relevance to CFOs and internal management personnel employed by corporates connected with the agribusiness sector.
A detailed table of contents for the Agri-Guide is available for free download below:
2023 Agri-Guide table of contents
The Cowell Clarke Australian Agribusiness Advisers' Guide is always close at hand as it provides me with valuable information on tax, structuring, transactional and succession planning issues. Given that most of my clients are farming families, this guide is just what I need to help me with the specific advice needs of my clients. I recommend Cowell Clarke and this guide to all advisers working with farming families in Australia.
Matthew Meehan (Adviser, Accountant & Business Coach) - Lifesolver
As an Adviser focusing on the Agribusiness industry, I found the Australian Agribusiness Advisers' Guide to be an absolute lifesaver. This guide is a one-stop shop for all Agribusiness related issues. The information is practical, relevant and detailed but easy to read and understand, with useful examples throughout. I keep a copy of this guide on my desk handy at all times.
Rebecca Jeffriess (Partner) - Moore Australia
In over 25 years of practice, I am yet to see a publication that remotely matches the Cowell Clarke guide for its quality, depth and breadth of information. What also sets it apart is that, although it is highly technical in nature, it is written in digestible language and is loaded with practical tips and traps. It is also clear that the team at Cowell Clarke understand how the legislation is applied in the real world. I can thoroughly recommend the guide to any professional working in the Agribusiness space.
Gavin Smith (Director) - Smith Shearer
Forsyths has had the pleasure of being introduced to the Australian Agribusiness Advisers' Guide this year, which we have found to be a unique and valuable resource.  It is a 'one stop shop' reference, for issues affecting our Agribusiness clients. Clear language, with practical tips and examples that are easy to read, yet technically detailed all at the same time. It is the commentary you need when the legislation is doing your head in.
Joanne Kelly (Principal) - Forsyths
The Australian Agribusiness Advisers' Guide is a clear and concise resource authored by commercial lawyers with extensive practical experience. I have found the guide to be a valuable tool when providing advice to agribusiness clients and I am yet to come across any other agribusiness guide which covers this level of detail. I recommend the guide to all professional advisers working in the agribusiness sector.
Michael Parker (Partner) - Mott Finnis & Co
The Australian Agribusiness Advisers' Guide has proved to be a highly useful resource for our accounting practice. It certainly provides clear and concise technical information with practical examples that is easily referenced, assisting us in providing professional advice to our farming and fishing clients. The comprehensive content of this publication puts it in a prominent position in our professional library.
Colin Whitehead (Director) and Clara Henderson (Associate) - GPK Partners
The Australian Agribusiness Advisers' Guide is an exceptional resource for navigating the intricacies of the tax and commercial issues facing our agribusiness and primary production clients. We have a number of copies circulating the office, and we use them all the time. The practical examples and references to traps to be mindful of are extremely useful. We would strongly recommend this guide for any tax adviser working with the agribusiness sector.
Matthew Vandenheuvel (Principal) and Warren Smith (Director) - Brentnalls NSW